Performance - Sustainability - Craftsmanship - Customization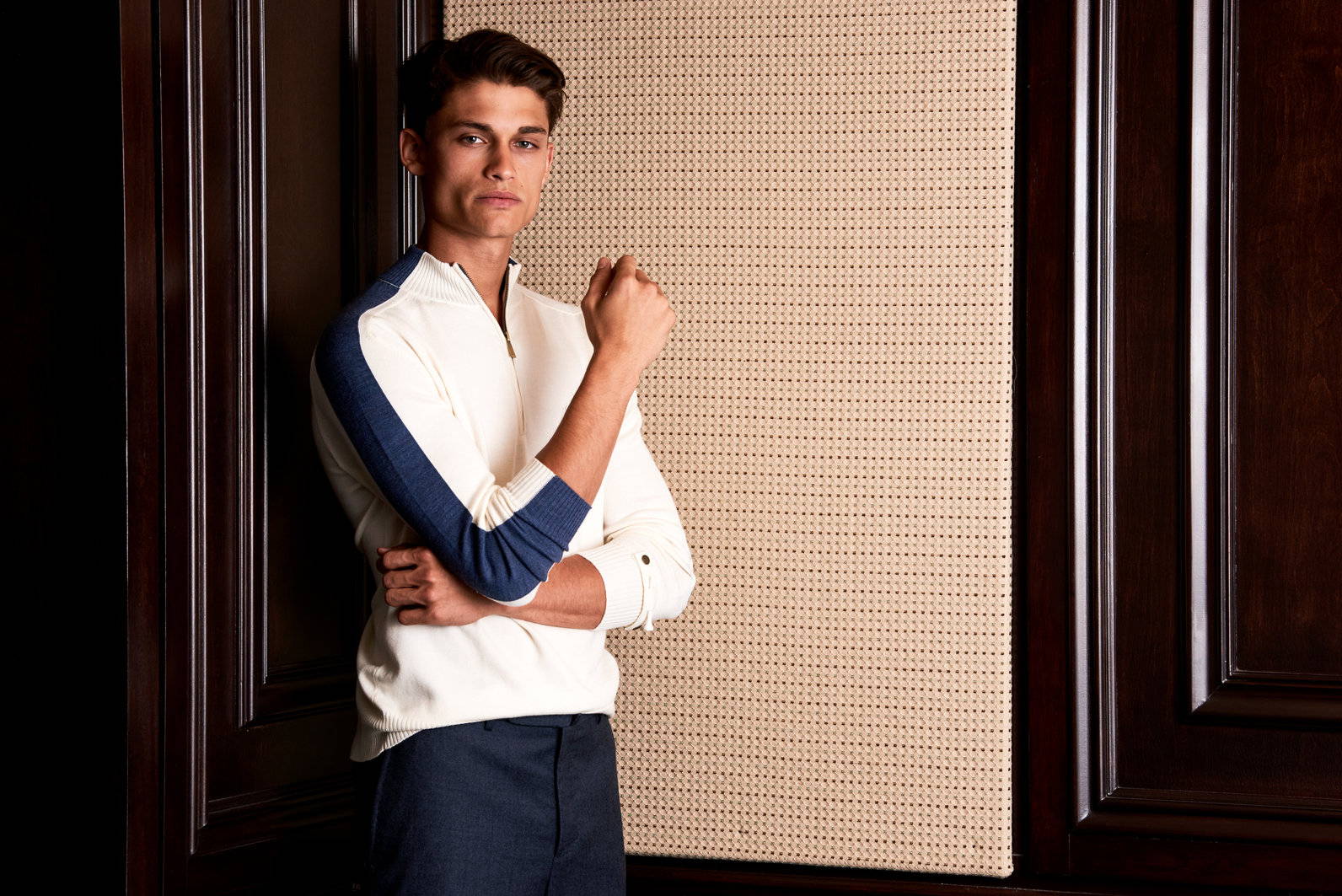 * We use super soft merino yarn for its sports performance properties. Both water and stain resistant, it has moisture wicking benefits and will keep you cool in the heat and warm in the cold.
* Our cardigans are the ultimate in luxury. We use six ply cashmere for substantial body and side vents for optimum comfort.
* All athletes will appreciate the knitted in mesh panels for improved heat and moisture control
* Exclusively designed for golf enthusiasts, our utility tab secures a golf tee or pencil for ease during play.

* We only use Gold level pure white cashmere which is certified ethical and sustainable by Cradle to Cradle™ which adheres to the highest environmental standards sourced from Mongolia. The yarn is then finished in Italy & the sweaters are manufactured in NYC.Our cashmere suppliers have an exclusive partnership with a community of 800 herding families in the steeps of Mongolia. Their strict, systematic approach to cultivating the land allows for ideal animal welfare, yielding the most luxurious cashmere.
* Australian merino comes from an award winning sustainable farm. Their sheep have not been subjected to mulesing, keeping them free of harm.
* The yarns get shipped to a state of the art mill in Italy which is run completely on renewable energy. to spinning, finishing and dyeing. All of the yarns used in our products are made from dyes that are the result of an extensive sustainable selection process, also governed by Cradle to Cradle™ criteria which limits chemicals and water runoff into the environment.
* The collection is proudly made in New York City using zero-waste knitwear technology and on-demand knitting, limited excessive waste.
* We are happy to partake in a circular fashion model in which we welcome gently used Reali New York sweaters back to our studio to be made into future garments.

* Reali New York is dedicated to outstanding craftsmanship. We source the finest raw materials like natural buffalo horn buttons and have engineered buttonholes knitted into the garment for extra durability.
* Drum dry supple leathers are placed on elbows, pockets and trims while our double face garments have a sartorial finish.
* Our meticulous assembling and hand finishing techniques combined with our innovative performance knitwear machines enable us to produce the finest quality products, thus enabling us to also offer made to order selections.
* The collection is proudly made by skilled artisans from all over the world.Our unique boxed storage system preserves your knitwear.

* We offer a Ready- To- Wear Collection that is completely customizable. Choose buttons, suede or leather elbow patches, embroidered crests and monogramming from our design libraries. We also do custom embroideries for businesses.
* Our Made-To-Measure offerings include any style from our existing Reali New York collection (outside of the Small through XX- Large size range) made to fit your exact measurements.You could also customize it as well from our design libraries mentioned above.
* Our Bespoke offerings enables a customer to select any sweater they desire, made to fit their exact measurements to ensure a perfect fit. We design it together. The client is measured and then has the first fitting in about 3 weeks. The second and final fitting takes an additional 3 weeks for their one of a kind bespoke sweater!
* There is no other knitwear brand in the market that offers this level of customization.
* Customization is at the heart of Reali New York!