What Type Of

"Sweater Guy" Are You?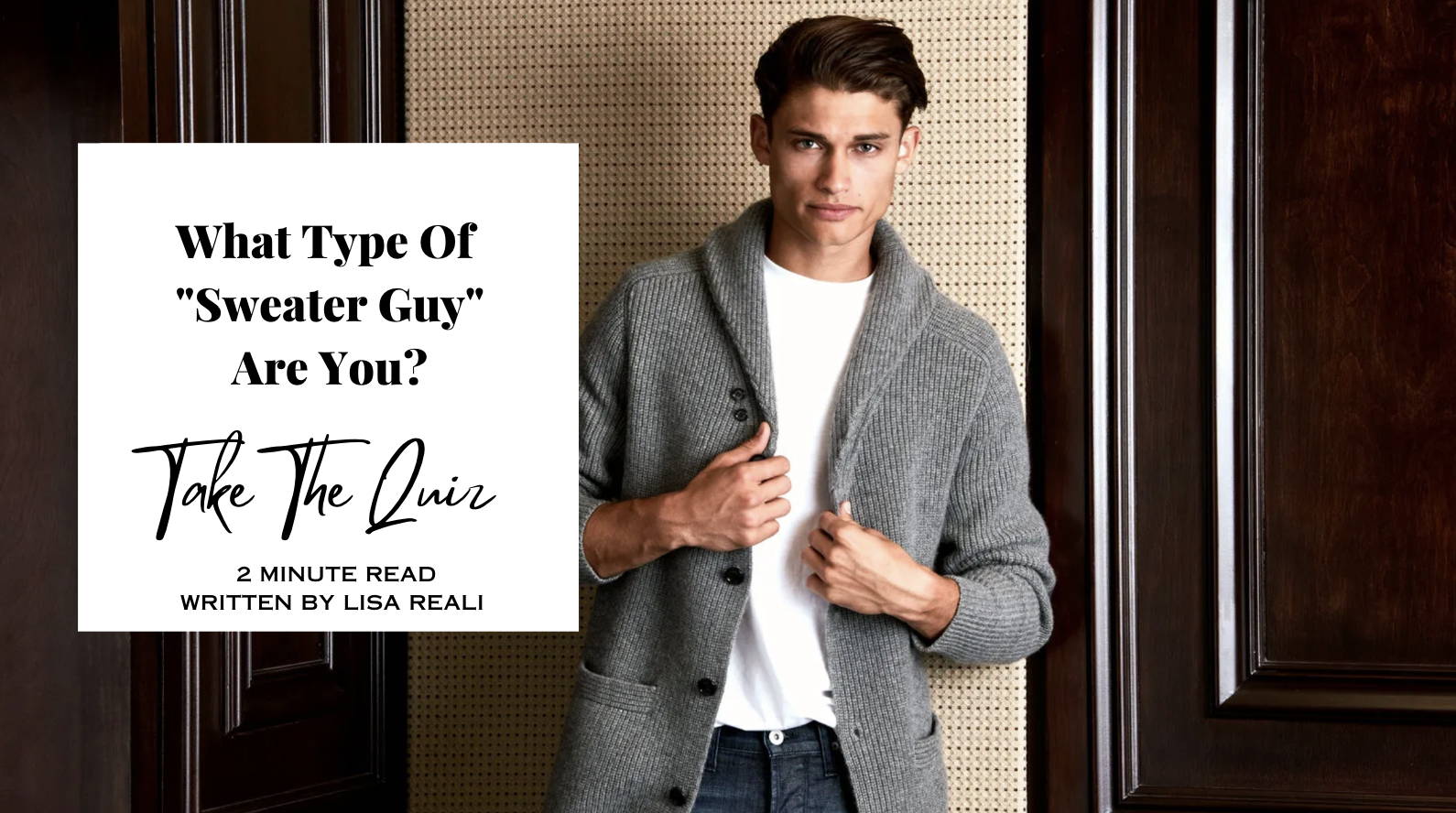 Turns out, you can tell a lot about a guy depending upon what kind of sweater he's wearing! Whether he desire's minimal, clean lines and simplistic design or yearns for cozy, oversized comfort as his guiding principle, the type of luxury sweater that a gentleman is drawn to, is determined by the lifestyle he leads, and the type of activity he will be partaking in. Finally, he must consider the specific styling or manner in which he will rock it!
Check out what type of 'sweater guy' you are and read the 2- minute guide below to learn more about the various types of sweater styles for men!
Whatever sweater type you are, we encourage you to explore ALL the options available to you ... needless to say, ahem, I'm sure you'll find some great options below!

01. The Modern Minimalist:

The modern minimalist sweater guy embodies effortless sartorial sophistication. He relies on simple, clean lines that subtly states low key luxury with his preference in intentional quiet design, discreet styling and understated detailing. He exudes a particular modern, no-fuss confidence. ** The 'Modern Minimalist" pairs his sweaters with slim, modern straight- leg pants or denim with clean lines and not a lot of details.(Seen here: Canali, Reali New York and Hermes.) Some famous modern minimalist- Steve Jobs, Daniel Day Lewis, and Justin Theroux.
The classicist sweater guy looks to a casual refinement and has an appreciation for iconic knitwear in American sportswear history. Styles in particular are the classic V-neck, the shawl collar cardigan and the simple crew neck; all either striped, solid, cabled, embroidered, or with a placed design of some sort. The men's cable knit sweater is a particular favorite for the classicist. These styles possess a sense of heritage which are timeless and will never go out of style. ** The "Classicist" usually pairs his sweaters with traditional slim dress slacks, chinos, denim or even jogger trouser in classic menswear patterning. (Seen here: All styles are Reali New York) Ryan Gosling, John Legend and George Clooney are pure classicist sweater guys.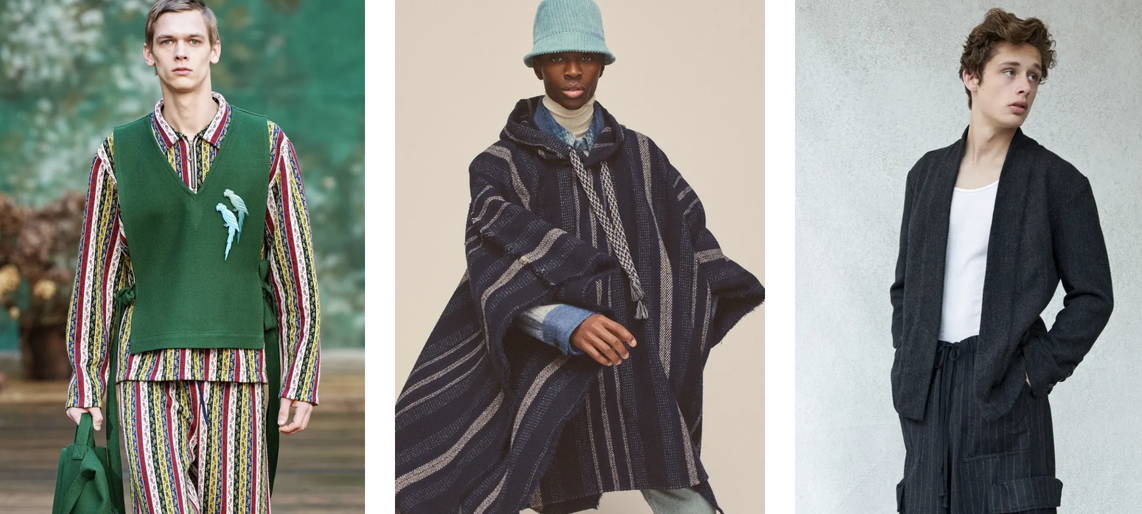 An eclectic elevated aesthetic that is in stark contrast to the traditional sporty wardrobe, the bohemian spirit looks to playful, effortless design with a long, fluid, oversized, and multi- layered appeal. This sweater guy favors an artistic flair with a worn- in character that emphasizes rustic textiles, patterns, patchwork, and texture. Its carefree style tends to be starkly juxtaposed with the sartorial workmanship that is often fabricated throughout the luxury sweater design. ** The "Bohemian" usually wears unconstructed silhouettes either in solid with a lot of utility pocket details or consisting of mixed media colorful patterns. (Seen here in Bode, Isabel Marant and Greg Lauren.) Johnny Depp and Jared Leto style a bohemian flair to their wardrobe.
The retro gent takes a nod from vintage inspiration with a retro vibe. This sweater guy looks to old world flair with a modern sophistication. Styles include the round-neck knitted vest, the knitted 1/2 sleeve split polo collar, and the bomber knit jacket. These pieces embody a nostalgic 70's spirit and a fondness to styles with an endearing historical reference. ** The "Retro-Gent" usually pairs their sweaters with a nostalgic flair including wider leg pants, pleat detailing and a bit shorter hem on their pants. (Seen here: Louis Vuitton, Reali New York, and David Hart) JJ Abrams and Elijah Wood pull off this retro look with ease.

05. The Laid Back Lounger
The laid back lounger sweater guy knows that comfort is the new luxury! Comfort dressing is transformed through relaxed silhouettes where laid back luxury is key. Styles include oversized sweaters with teddy bear textures, super soft casual knit joggers for optimum ease of traveling, and comfy cozy luxury sweaters in easy patterns and styles for the guy on the go! ** The "Laid Back Lounger" usually pairs their sweaters with comfortable fitting trousers or knit joggers to compliment their laid-back luxury appeal (Seen here: Hermes, and Reali New York) Whether they're court-side or traveling, Idris Elba and Jake Gyllenhaal have been known to stay comfy and still look lux!
The traditionalist sweater guy seeks familiar patterns rich in history inspired by menswear suitings, geometric tiles, folklore and includes a hint of academia styling. Harlequin diamond patterns, mini-checks, chevrons, windowpanes, houndstooths, fair-isles, rugby stripes, space-dye patterns, and varsity sweaters all beckon updated styling for today's modern luxury sweater interpretation. ** The "Traditionalist" sweater guy usually pairs their patterned sweaters with solid classic trousers in order to highlight their sweater and keep things balanced (Seen here: Pringle of Scotland, Reali New York, and David Hart.) Adam Levine and Brad Pitt are big 'sweater guys' and have put their own modern spin on traditional knitwear dressing.
The sporty activist expresses an athletic refinement that is both fashionable and functional, designed for the dynamic gentleman with an active lifestyle who embraces the outdoors and is always on the go! This sweater guy is a rugged explorer that can climb to fashionable heights in styles like the versatile 1/4 zip mock neck, the all important knitted hoodie and, the quilted vest, the go-to piece in the active man's wardrobe. These practical performance pieces are usually made of merino wool, a natural fiber with wicking properties that keeps a guy warm in the cold and cool in the hotter temps. Merino wool is also water and wrinkle resistant so it's great to travel with. These sweaters scream, Yeah, he's got this! ** The "Sporty Activist" sweater guy tends to naturally pair his athletic sweaters with tech-friendly pants made with performance hybrid fabrics in order to get around with ease. (Seen here: Reali New York.) David Beckham, Sterling Brown, and Daniel Craig are all perfect examples of always looking sporty and polished on the go!
So which type of sweater guy best represents you? We at Reali New York embody luxury knitwear for the modern man and we have ALL the looks you need for whichever type of sweater guy you are! Shop the looks below so you'll look stylish and confident!