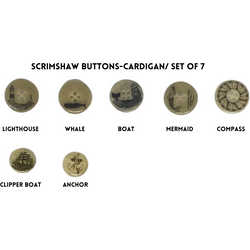 Reali New York
Add A Set Of Scrimshaw Buttons To Your Cardigan
Add a set of Scrimshaw buttons to your Shawl Collar Cardigan!
The set includes 5 large scrimshaw buttons along the center front and 2 smaller scrimshaw buttons to secure the collar.
These buttons are etched by hand by a famous New England scrimshaw artist. They are designed exclusively for us and are a work of art! This cardigan comes with one of each type of button to make it truly unique!
Simply add to the cart to customize your cardigan!